Authors: Paolo Signorelli and Clément Reinholdt, MSc in International Food & Beverage Management Students
Last November our ESCP Master in International Food & Beverage Management (IFBM) 2020 class participated in the Turin edition of DigiEduHack, a two-day event led by EIC Climate-KIC as part of the European Commission's Digital Education Action Plan.
DigiEduHack is a series of online and offline hackathons taking place around the world focusing on creating new methods of education in the digital age. Urban Food Circularity was the last edition's core topic, an issue that is reshaping European and World priorities.
DigiEduHack's main goal is to put together students with different backgrounds and nationalities to develop projects and educational ideas that are applicable in real life. All ESCP IFBM students were mixed with students or researchers from other universities, creating 13 international teams.
Our team was composed of ESCP IFBM students Paolo Signorelli, Carolina Giulia Pisa and Clément Reinholdt plus Elisa Moscato, researcher of the University of Turin.
During the kick-off meeting we were presented a series of actual challenges such as the increase in people moving to cities and the rise of food and materials discarded in our life. Then, we were given some inspirational speeches during which entrepreneurs and managers like Daniel Frey Longholm, Global Education Manager of Too Good to Go, explained some brilliant projects that addressed these issues.
The conclusion of the presentations set the official start of the main competition. In teams we had only 24 hours to develop and present a feasible business idea for a product or service that would serve the urban circular economy with a strong focus on education as well.
After 24 hours we pitched our idea for SmartPOT, a prototype of a modern and interactive home farming experience that was awarded with the 2nd prize by experts Alessio D'Antino and Gianmarco Paris.
Our product is a connected composter and gardening pot for families or individuals living in cities with a balcony or a terrace. Organic waste is regularly placed in the lower part to prepare a compost for vegetables and other plants growing in the same pot. The app allows you to monitor the process and keep track of the characteristics of the forming compost based on the type of organic waste used. The upper part looks just like a normal pot in which you can plant and grow what you want, but fully integrated with technology. A series of sensors (humidity, temperature, nutrients, etc) paired with the dedicated app, provide a constant monitoring of the SmartPOT from the beginning to the end. The app will train and support the customer step by step through the entire process. At first it will guide users in choosing the best crop based on their location, the season and the type of soil. The sensors inside the pot will then monitor the level of nutrients and water in your soil, telling you what you need to grow your plant. The entire process can also be seen as an interactive educational journey. The app will explain every step of what, how and when the plant of your choosing should grow, all along the fascinating process that starts from a single seed and ends up with fruit and vegetables.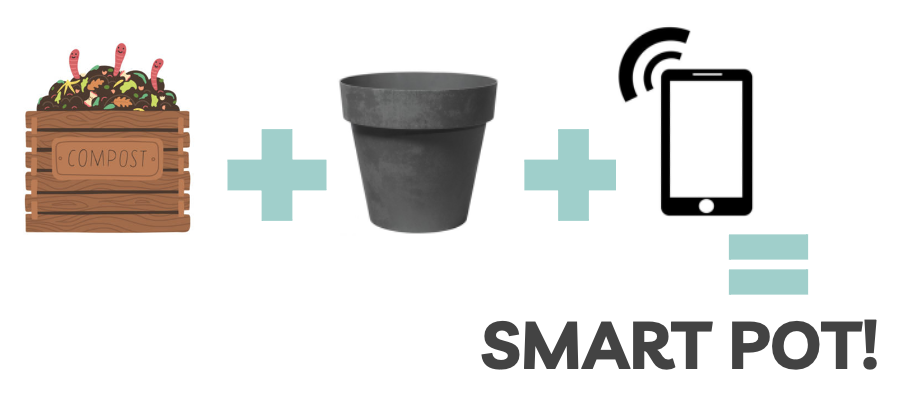 The event was extremely educational. For most of us it was our first time developing a business idea to address real life problems. Still, the results were brilliant, despite the extra difficulties due to the online format due to Covid-19 restrictions.
We learned how useful it can be to solve a problem with a team composed of people with different backgrounds, thereby enriching the point of view when shaping an idea. The time constraints also highlighted the importance of collaboration and planning.
In conclusion, the most gratifying feeling we will remember is the sense of satisfaction and achievement in developing a feasible business idea while addressing a real problem. We do not know for sure, but maybe in a few years you will find our SmartPOT in all your homes!