Author: Sofia ATIR – ESCP Master IFBM student, 2020/21 intake
Each student joins the IFBM programme at ESCP Business School for different reasons, whether its for food and beverage in general or strategic areas in the sector. As for me, being a student and a former employee in a completely different discipline, I enrolled in the Master in International Food & Beverage Management because I was searching for a balance of academic and practical knowledge before starting my new vocational integration.
Recently, my classmates and I had an exciting experience at the I.F.S.E (Italian Food Style Education), where we were given a whole day to dive into Italian cuisine by cooking and tasting a four-course lunch and learning about menu engineering in a very interactive atmosphere.
The I.F.S.E is known as the most innovative school of haute cuisine and pastry in Italy.
It aims to protect the authenticity of Italian hospitality and food culture. Therefore, the school welcomes local and international students and delivers high-quality training with the cooperation of renowned chefs and qualified experts in the field.
Our training session started with a welcome breakfast buffet to get everyone ready for the day's activities, and none of us could resist the exquisite macarons or the pistachio and gianduja chocolates made in the pastry laboratory. As soon as we got to the main kitchen, we were divided into teams and were assigned a meal to prepare. Each team was made up of 4 or 5 Master IFBM students, supervised by a chef who explained the recipe and gave us a few tips on how to manage our space, how to deal with certain tools and ingredients, and, lastly, how to style our final dishes for an appealing meal presentation.
The second part of our training was theoretical. It was about menu engineering and price setting, where the chefs also shared real-life examples from their own experiences in various restaurants of the world. The exchange was truly enlightening as we asked questions about the importance of the physical menu and the impact of the current sanitary crisis on the future of restaurants, amongst other things.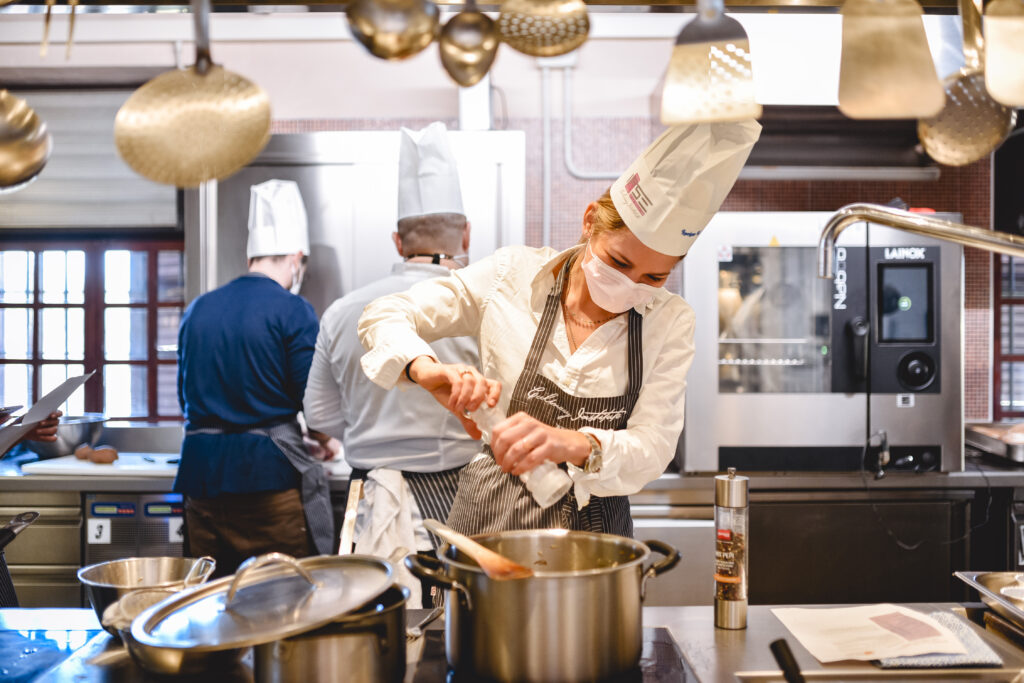 At the end of the day, each of the ESCP participants received the I.F.S.E cooking and management certificate. Being a chef for a day allowed me to understand how physically and mentally demanding it can be as a job, how important it is to manage stress and the cooking space, how crucial it is to organise it to meet deadlines, and how far one can get with creativity by coming up with eye-catching presentations.
The approach of combining academic excellence with full immersion in the food and beverage sector through direct contacts, live interaction and training is what makes our ESCP Master rank 1st worldwide amongst the masters in F&B management.