Author – Aya Tohme
Passion, love and excellence showed by all Nonino family members made the visit at the Distilleria Nonino memorable for all ESCP Master in International Food and Beverage Management students.
This family-owned business is well-known for being among the top Italian grappa producers in the world.
For us, students of the IFBM programme at ESCP Business School, such opportunities are invaluable and enriching experiences that enhance our passion for the F&B industry.
Founded in 1890 by Orazio Nonino, this iconic grappa brand is located in Ronchi di Percoto, in Friuli Venezia Giulia, near Udine. A true symbol of tradition, quality, and prestige, the Nonino family has revolutionized the way grappa is produced. Born from the by-products of wine making, the company has succeeded in transforming it from a rustic, undistilled peasant product into a luxury cultured product.
In 2019, it became the first Italian distillery and the first grappa brand to be voted "Best Distillery in the World" by Wine Enthusiast. The Nonino family now owns five distilleries, each with twelve proprietary copper batch steam stills, and they are deeply involved in every phase of distillation to ensure consistent high-quality products.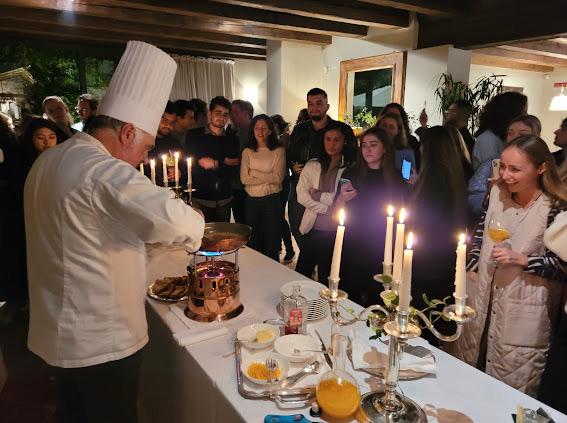 The company is currently run by the fifth generation: Cristina, Antonella and Elisabetta Nonino. Cristina and her daughter Francesca (sixth generation) guided us throughout our company experience.
The Friulian vineyards were the starting point of the visit. The distilleries of Nonino are located there. The distillation is 100% artisanal. Constantly striving for absolute quality, it is the only distillery in the world equipped with 66 artisanal discontinuous stills. This structure ensures the freshness and quality of the raw material. The Nonino family personally monitors the sourcing of the raw material and only distills at harvest, without any discontinuity, to preserve the fragrances and aromas and avoid any form of storage.
To end the day, we were invited to the educational room of "Borgo Nonino" for a grappa aperitivo. This was accompanied by delicious local appetizers, special dishes seasoned with grappa and topped off with a live cooking show. Cristina Nonino passionately and enthusiastically prepared all the cocktails for us.
The next morning, the family opened the cellars for a private visit. We were interested to learn about their innovative and natural aging method. All bottle labels contain detailed information about the raw materials, the production method and aging.
We also participated in a tasting of seven different types of Grappa during which the Nonino family gave us a broad presentation of the company's activities and ambitions. A fundamental lesson learned from this journey is that quality, innovation, expertise and above all passion are the main pillars that give a family business a step ahead on the international scene!